In August…
A client challenged us to get them ranking top of Google for "Utility Vehicle Hire".
For commercial reasons, it was a priority.
In December…
There you go, #1 position – from a starting place of 99+ (non-existent!).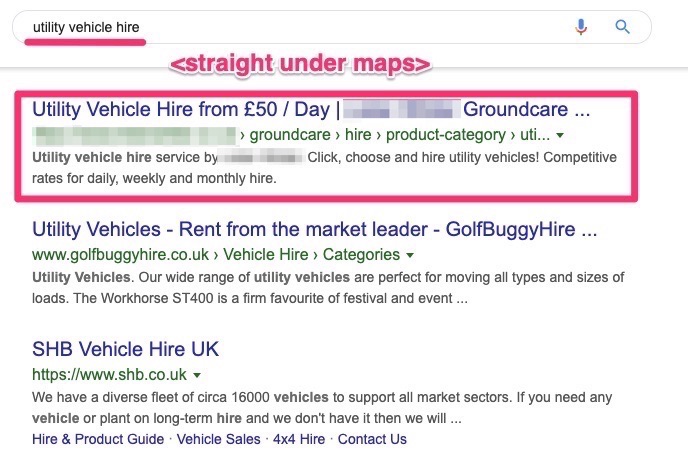 So How Did We Do It?
Humblebrag over, here is how we did it, step by step.
This is not a 'brand-new-start' story, the foundational work like technical auditing, console work and keyword/topic research etc… was already done. There's a bit more to it when it comes to brand new sites.
This is about picking out a specific target and getting it to work – post-technical & post-research stage.
#1 – Site & Site Structure
This is a critical step, if you miss this then the rest of your efforts can go to waste. This is what matters:
URL structure
What users want
A clear URL structure is the most important thing. Simple categorisation, nothing over-clever. Make it easy for Google.
In this case "which page here is to do with Utility Vehicle HIRE?" >>> "this one, obviously!".
Confusing Google with 20 different pages about it is not a good idea. Keep it simple.
Why this matters: so Google knows how to handle you!
#2 – What the user wants
If I search this, I just want a list of options + rates. Simple.
Sure, spec out each machine, give me a video, tell me all the awards you have won, but what is the crux of my search here?
What machines can I get?
How much will they cost me?
This site had a pretty basic template, it was nothing special at all, in fact the design was totally basic – but it had everything the user wanted.
Why this matters: time-on-page, time-on-site, bounce per search term is critical to ranking. Immediate "no, this is crap" back button presses are acknowledged!
#3 – Competitor research
You could spend hours running licensed tools for every keyword of every competitor and Mozzing this, preparing that – endless research.
If you already have a good idea of your keyword strategy though (tip: do this at the very start before even thinking about your SEO), deep analysis of page 1 competitors is all that really matters.
All in relation to steps #1 and #2. What is better about this page for the user? <<< this is all that really matters.
Then make sure yours is better.
Why this matters: it is part of working out step #1 and #step 2
#4 – SERP & Meta Title
What is the most important thing about an advert? The headline.
And what makes a good headline?
Display (print or digital) is an art unto itself, and Caples is the King of display – you can read more about display headlines here.
Search is simpler, people overcomplicate it.
It is important to differentiate the type of search, which can be simplified to:
Purchase intent searches
Research searches
And if the former, just tell me how much it's going to bloody cost!
Even if you're in big-ticket B2B, if I am purchase searching, give me an estimate or ballpark.
Most importantly, always be testing – the click-rate of your meta matters. A LOT. Don't optimise for "cleverest headline", optimise for most-clicked headline, per search term.
Why this matters: better click-rates, better ranking. Simple.
#5 – On-Page Technical Optimisation
There's more! It's not just the title, the description also matters (less, but still).
And then there's schema. It gets more important with every passing week…
You can frog-jump right up to the top of Google in some industries with schema proficiency. Sometimes it's simple, sometimes it's complex.
In this case, it was quite complex – the schema formatting required work. But it was worth it…
Why this matters: it puts you a tier above most competitors and proves to Googlebot that you're a pro.
#6 – On-Page Content
It's amazing how small changes can make a big difference.
We got this page hovering around position 4-5 consistently, from a standing start of 99+ within 6 weeks – getting it to #1 was down to some minor wording tweaks.
Headings, subheadings and copy matters. A LOT.
Again, linked explicitly to what the user wants when searching that phrase.
Work this out, test, and position 4-5 can become position #1.
Why it matters: people read words – and so does Googlebot.
#7 – Backlinks
This site already had a good volume of backlinks, but the page didn't.
In this case, not many were required to boost page authority relative to competitors. Those backlinks did tip the balance to #1 ranking though.
Backlinks are a tough gig, it takes time to build the Rolodex of contacts & partners. Well worth it though, your little competitors won't do it so you'll always rise above the majority with a good backlinking engine.
In some industries and on some terms you need to invest more heavily in backlinks, in this case it was quite light.
Why it matters: good backlinks boost authority of your site and page.
Summary
Ranking top of Google is possible, even for low-authority sites with relatively few backlinks.
We have clients with 20-30 domain authority (low) getting featured snippets by covering #1-7 above.
More on the exact steps to get a featured snippet can be found here.
"SEO" has become a dirty term to many, there's so much crap advice out there – and all those spam emails from "consultants"!
Follow #1-7 and you'll rank better, so long as your technical SEO fundamentals are good.
Get a FREE SEO Audit Report for Your Website