Say whaaaaaaat?
Yes, it's true.
64,947 sessions per month becomes 92,029 per month, just three months after the technical SEO efforts.

We were instructed on September 1st. The following month, results started to show. Three months later, BAM!
64,947 sessions recorded in August 2019
Technical SEO work carried out throughout September
Aug 2019 vs Sep 2019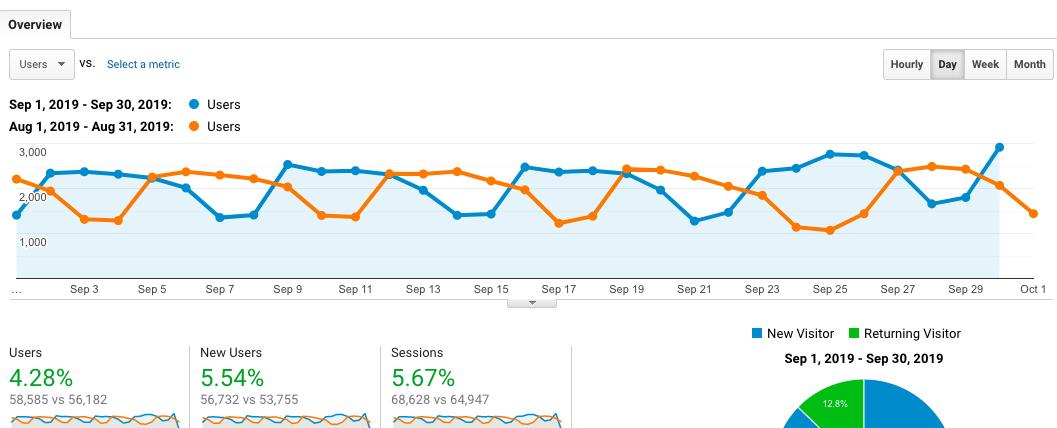 Something's happening!
Aug 2019 vs Oct 2019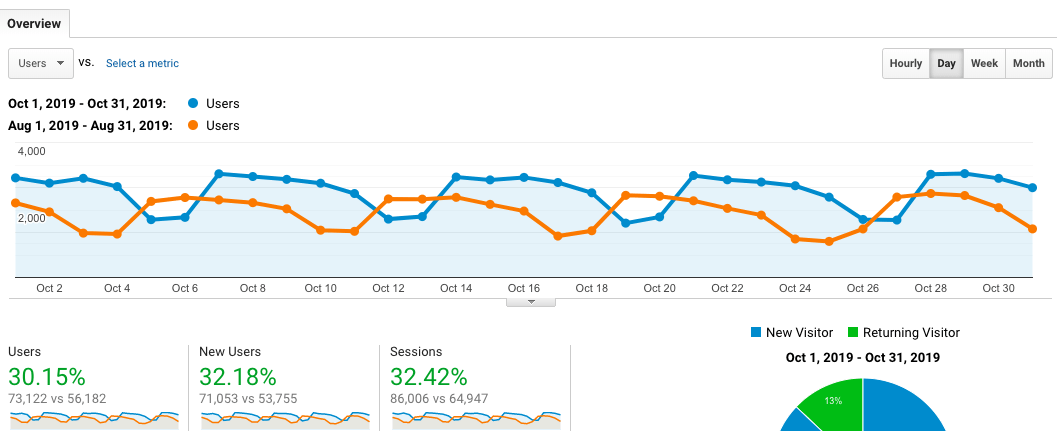 What a start!
Aug 2019 vs Nov 2019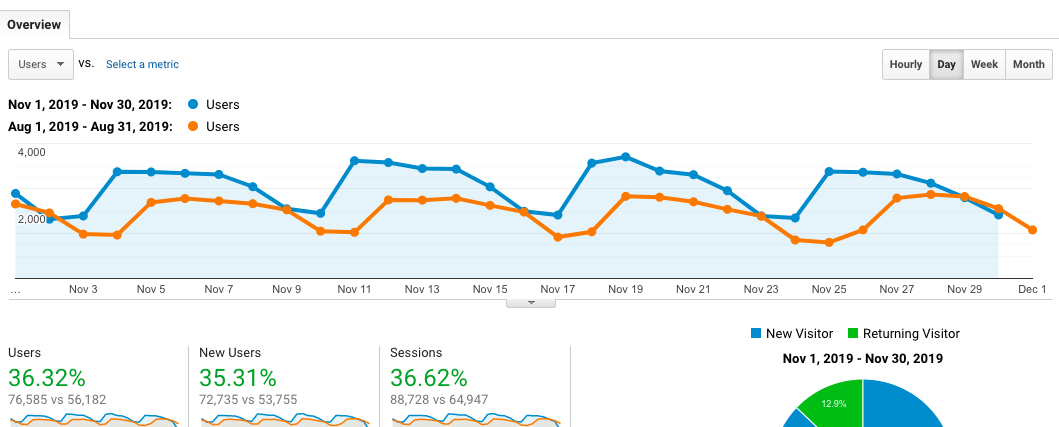 Good going!
Note: We have omitted December as it doesn't give a true picture due to naturally low traffic during holidays. However, a year-on-year comparison for December can be found below.
Aug 2019 vs Jan 2020

BAM!
Now, let us compare year-on-year, same period.
Jan 2019 vs Jan 2020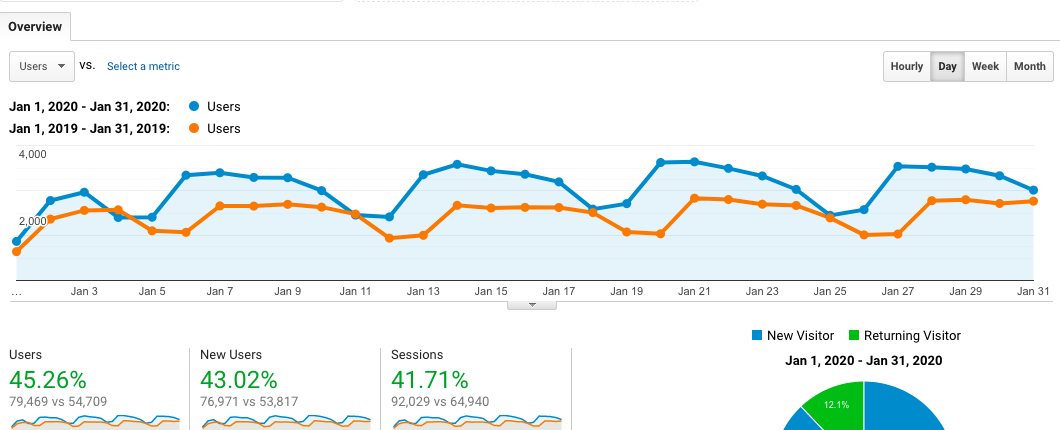 A whopping 41% increase in number of sessions!!
December: Year-on-Year

74% increase in December traffic – 2018 vs 2019!
It can happen like this
It doesn't always happen like this, it depends on the state of the fundamentals – the technical seo.
Where your technicals are wrong, there is room for immediate big bunce.
Expectation setter: it doesn't always happen like this!
An 8-Step Starting Checklist
It's a simple checklist, but eeeeeevery single time we start with a new SEO client there are at least 3/8 missing or poorly set up.
Search Consoles set up & error-checked
Sitemaps submitted to all engines
Technical monitoring set up – realtime alerts to issues
Yoast or similar settings/setup (80% of the time this is wrong or bad!)
Schema Tool set up (90% of the time there isn't one)
Server log files analysed (99% of the time has errors)
…and alongside, it is a good idea to do your keyword/topic research, analyse competitors and set your starting strategy.
Then, and only then…
…should get into a regular flow of ongoing work and monitoring.
Without these fundamentals sorted, all future efforts become wasted – to small or large degrees depending on the initial state of the technicals.
The Details That Mattered Here
Search Consoles and Sitemaps
We first analysed the errors notified in Google Search Console. Key errors were related to page speed and broken links.
The website was not submitted to Bing search engine, so we made sure to verify the website on Bing Webmasters and submitted the sitemap.
Technical Audits
We migrated the website to a powerful VPS hosting.
Fixed numerous redirect chains throughout the pages by replacing them with direct links – this included page to page redirects, old version to new version, etc.
Fixed Search Console errors which included 404 redirects .
Hunted down the cause of an internal error caused due to conflict between a plugin and the theme, and helped fix it.
HTTP links within the pages (including in navigation menu) throughout the website changed to HTTPS.
Permanent redirects fixed where feasible
Technical Monitoring
After fixing priority issues, we continued monitoring all the pages for any new or left-out issues and made sure we were on top of every little issue. The monitors set up were:
Uptime Robot – for website downtime alerts
SEMrush – All the pages were being monitored and critical alerts set up, like 404 errors
Yoast
There were loads of on-page issues that could be fixed with Yoast SEO plugin.
Duplicate titles and meta descriptions
Missing H1 headings
Missing meta descriptions
While at it, we also fixed the broken external and internal links with relevant links.
But the first step is to get the Yoast settings right. If you mess up the settings, then you will end up wasting a lot of time in trying to debug the errors reported by tools like SEMRush.
Basic Yoast Settings
Rule 1: Set the 'show in search results' setting to 'Yes' for things that you want to be shown on search results, for e.g, posts, pages, blog categories, etc. It depends on the way you have structured your website and what you want to be shown. We usually set the 'tags' to 'No' as it creates the issue of 'thin content'. Unless you use a small number of tags and all of them have significant content under them, it's fine to set it to 'Yes'.

General Settings
In the 'General' tab of Yoast settings, it's not required to enter the organisation name and logo as it will be taken care of by the Schema plugin (and the Yoast one will be disabled via the Schema plugin). However, just in case, it's better to fill them up as a backup.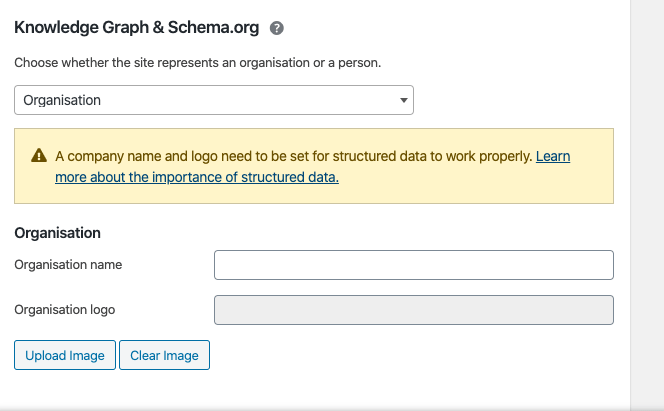 Schema
Schema markup of webpages is important, especially to increase the likelihood of rich snippets in search results, and for voice-based actions. Although Schema Markup (Structured Data) is not a requirement, it makes it easier for search engines to understand your page content.
We marked up the pages and blog posts with simple, standard schema as part of our foundational work on this website.
Make sure to add these schema types for your website:
Organisation schema (in case of a business website) ONLY for the Contact page and/or Homepage
Article schema (for pages and posts)
Server Log Files
Analysing server log files sometimes helps debug a technical issue. In this case, there was a '500 internal server error' message shown in some pages. Upon digging deeper, there was a broken function in a plugin which caused it to not load some resources.
Summary
Traffic boosts like this from technical fundamentals can happen. If your technical SEO is bad, all other efforts are thwarted.
Get yours checked – properly. It's easy and free to get a partial audit – lots of tools have a 'free' version, but that's not good enough at all.
Get it done thoroughly, by someone you can trust.
Get a FREE SEO Audit Report for Your Website
Foundational Technical SEO Checklist
If you would like to use this checklist on your website, feel free to use the below embed code.
Share this Image On Your Site