How Facebook & Google Ads Can Skyrocket Your Home Security Company
How we gained 136% more leads in the very first month.
By Michael Esposito
09/06/2022
In The Beginning...
A local home security business comes to us looking to increase their awareness in the local area but most importantly generate more leads across their digital marketing platforms, Google and Facebook. Whilst they had Google ads, they were running a smart campaign with no ads running on the Facebook side.

Once all the setup was ready, it was time to put it all into motion! Right off the bat, our foolproof PPC 101 strategy proved to be a success and it showed in the results that follow and doubled their previous results before we implemented our strategies.
The Results
When it came to getting the client's desired results, we started the process from scratch and made the creatives for FB based on our keyword and audience research. The business had a wide range of services from CCTV, automated gates and other home security and maintenance.

It's no surprise that home security is a very large market and has a lot of competition across both Facebook and Google. So, working through our PPC101 strategy with care and attention allowed us to carefully place ourselves (the business) in the correct niches to win the searches by making sure that most, if not all of the keywords were high intent. Over on FB, we had the freedom to make our own creatives for the business which meant that we could experiment to find the winning ad for a specific audience.

P.S. The results below don't even include their phone call results as the company opted not to do the phone call tracking. If phone calls were added the overall conversion rates + leads generated would increase.
Crunching the numbers
Within the first month of running Google ads, we started to find success.
Here are the results from our first month of running Google ads (Analytics & GA view).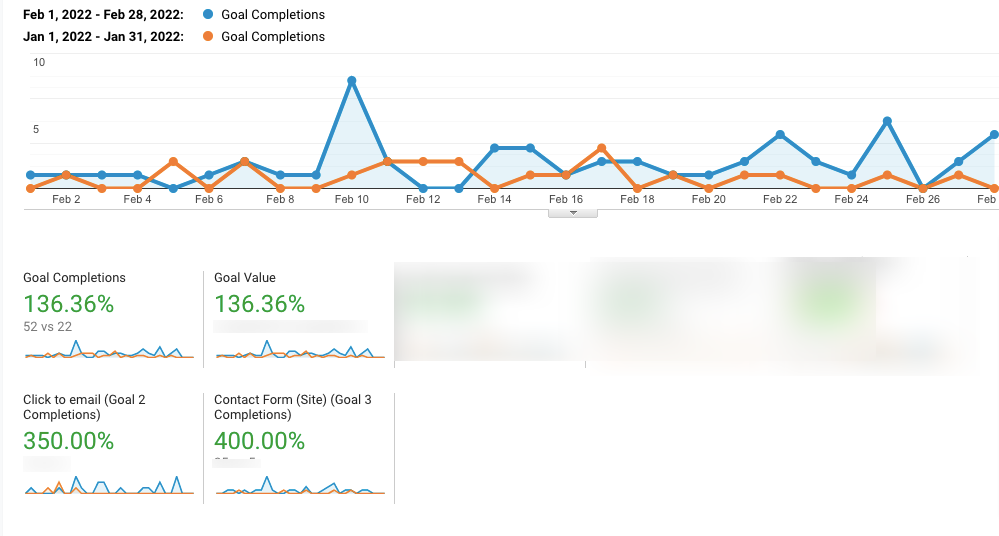 Not bad right? In just the first month of running Google ads, we were able to get 52 goal completions (leads) which equated to a 136% increase in leads by using our proven keyword structure. Also, we were able to not only get over 9% conversion rate but also make sure to dominate the search terms and appear on top more than 90% of the time.
This is what the results looked like the following month (March 2022) ...

Even in month 2, the results got better, with an average conversion rate of over 13%, with one campaign having a 17% conversion rate, almost double from the previous period!
Time for a little victory dance...
How did we achieve these numbers?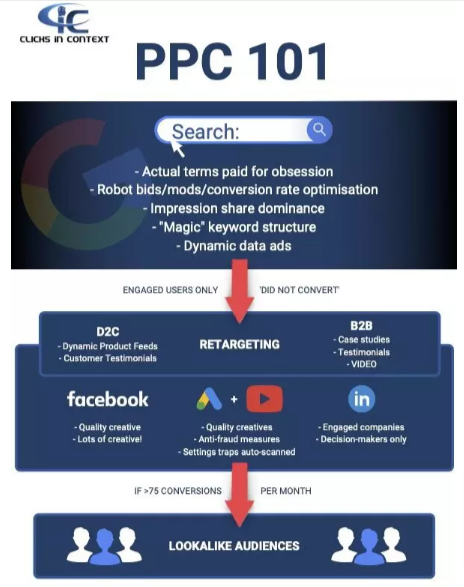 Looking at the work we did on Google Ads, it was clear that this wasn't going to be an easy task, especially with a large amount of competition in home security. Taking into consideration that we had a smaller budget to use for Google ads (smaller than companies like Amazon), we decided to stick with the local aspect. Targeting cities and towns nearby and making sure to include them in our ads was going to be key if we wanted to succeed! After carefully looking at multiple keywords we decided which ones we wanted to win and made sure that we implemented them. Working through our PPC 101 framework (diagram on the right) also meant that we were able to adapt the keywords to make sure they hit all high intent searches to give us the best results!
When it comes to getting amazing results from Facebook, it was all about following our detailed Facebook Strategy. It was clear from the get-go, that not only did we have to find the right audiences but also the right niches. Targeting them with every bit of effort, and making sure to keep the creatives (ads) relevant to that specific audience/niche. After a few tests, we managed to find the winning ads and use close variations throughout the campaigns. Simple right?? BUT did you know that the very best audiences aren't necessarily in your ads manager?
We've created a smart integration with Facebook and 3rd party partners, which gives us access to premium audiences that are incredibly detailed!
Conclusion
Ultimately, even in a highly competitive market such as the home security industry, finding a niche and local areas where you can advertise will increase your chances of success greatly. Also, making sure that you have a plan ahead of running your campaigns will be essential. That's both a plan for which niche audiences will need to be targeted and a plan for your keyword structure. Luckily, our PPC101 setup covers all of the above and more!

Nonetheless, doing all the things mentioned will ensure that you will at least have a chance at competing in the market, especially a highly competitive one!