What To Expect From Your SEO Efforts
SEO is not magic, it is a process that requires a range of skills and human time on a regular basis.
It broadly splits into five parts:
And of course, constant monitoring & on-going research.
From the very start, understand what you are paying for – and what you are not paying for.
Are you paying for the whole chain to be managed or just part of it?
Finally, understand the rare circumstances whereupon things can go wrong.
#1 Keyword Research
Absolutely fundamental, before you even start – pay for some professional keyword research including viability.
If your heart is set on dominating just one short-tail keyword where YouTube, Wikipedia, Facebook and Twitter dominate the SERPs – it will be tough (not necessarily unachievable though!).
In-depth keyword research provides a plan of attack. Failing to plan is planning to fail!
You will be armed with a long-tail-leading-to-short-tail FULL PLAN, content ideas, and a priority order – e.g. start with low competition / high volume.
A data-driven plan. Without this, the rest might be futile.
WHAT TO ENSURE: A substantial keyword strategy, including volume & difficulty scores.
#2 Technical SEO
In a similar vein, if your site can't be crawled properly, is slow, doesn't have SSL or 101 other technical SEO factors.
We have software that constantly monitors, scores, and alerts us to any technical issues with your site.
And experts who will go in and sort it. This is an absolute prerequisite to the rest – your technical audits should score 85%+ or be fixed as an absolute priority.
WHAT TO ENSURE: An audit score of 85%+
#3 On-Site SEO
Meta, Schema, Snippets, Anchor Text, microformats, and a hundred other things.
Your pages need to speak the language of Google, basically! If not, your rankings will suffer.
Highly skilled people come into their own here, there are many advanced techniques your average consultant won't know about. It is well worth paying for good people here.
WHAT TO ENSURE: An audit will show up any holes in this i.e. negatives. For the 'extra' positives, you need highly skilled people to even know all the tricks!
# 4 Off-Site SEO (Backlinking)
Not all backlinks are created equal.
Basic Backlinks – are directory listings (including the most important one – Google MyBusiness!), and usually branded term links – important to build up, easy to do
Web 2.0 Backlinks i.e. no-barrier posts like YouTube (anyone can upload a video) is easy, but needs to be done to a certain format
"Medium" Backlinks – moves into comments, guest blogs, partnerships with other sites, broken backlinks, re-acquisition – it requires Outreach efforts
Social – some social buzz gets noticed and gives you authority
SEO/PR – national newspapers, super-authorities – beyond our scope, but niche PR agencies will exist for your business – just make sure they backlink correctly!
Expect to pay £2-3k per month for mega-PR like this.
You need to understand at the very start what your agency is / isn't responsible for with regards to backlinking. Low fees will usually just get you directory listings, which are ok at the very start but you'll need more link juice to really advance.
WHAT TO ENSURE: # linking domains and #total backlinks building each month – you should see steady progress.
ALSO: no spammy or "toxic" backlinks – this can get you penalised by Google. Look out for domain authority.
Note that backlinks can be lost too, at no fault of the your off-site SEO team. If you delete a page, those backlinks will disappear – you may have asked to be removed.
How we work: even on low-fee clients where we only take care of basic & web2.0 links, we will provide 'shortlists' for Medium backlinks frequently – so you can do your own outreach and progress.
#5 Content and Topics
This is where most unreasonable SEO expectations creep in.
If all of the above is going on, you should see improvements compared to your starting position and make progress.
But you aren't adding any pages.
Or you aren't adding any pages for things that actually get searched!
Then you will be limited.
In line with your keyword strategy, you need to create GOOD content that is BETTER than the others on that same topic, and is LONG: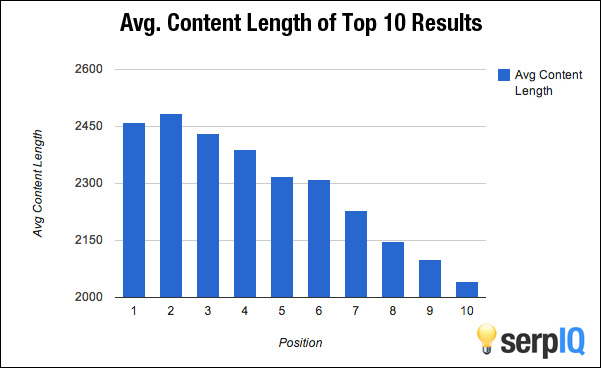 Longer content gets you ranking better.
There is a finite number of searches occurring on your topic / niche.
You need to constantly expand your content to keep up with what is searched, asked, shared – you need to be on top of that to be in the reckoning for more clicks!
WHAT TO ENSURE: quality, fresh content, relevant to what is going on on the internet, being added at LEAST once per fortnight.
Note that even on small-fee clients where we are not responsible for content, we will provide recommended content calendars – i.e. researched, actual headlines we think you should get content created for.
What Are You Paying For?
Determine at the start exactly what you are paying your SEO team for. Is it the whole chain, or just part of the chain?
Once that is clear, they can only reasonably be measured on our "what to ensure" comments for each sub-heading above. Anything beyond that, they are not being paid for.
There is a whole chain to piece together and if any link is missing it will affect your SEO progress.
Website Conversion
SEO is about relevant inbound traffic – on your topic.
Just as with PPC, it gets people into your shop. What they do when they're in is up to your Conversion Rate Optimisation team.
If the extra traffic isn't turning in to sales, you have a conversion problem.
Can Anything Go Wrong?
Yep.
Google update their algorithms all the time – 8 times in January 2018 in fact! It is a moving beast, and an update can cause fluctuations in rankings.
You pay Technical SEO guys to be on top of this, to recognise it and work it out. And it usually is worked out within 4-8 weeks in my experience.
Beyond algorithm updates:
Penalties exist: both manual and algorithmic
Picking up spam activity, anything that is seen as 'black hat' – including accidental – duplicate content issues
Toxic Backlinks
Through nobody's fault, you can get into a spammy backlink network
Technical Issues
It happens, audits spot it, it gets fixed – it can impact traffic
Lost Backlinks / Lost Pages
Happens a lot with website migrations – bad redirects, lost pages, lost links – and it'll affect your rankings.
If your SEO team & their tools are good enough to spot these issues, they are good enough to fix them.