Whilst you shouldn't ignore Facebook or Google Ads, Linkedin should be the fort you hold at the core of your B2B lead generation strategy. 
Why? 
With over 500 million monthly active users, many of whom are career-oriented professionals, Linkedin is simply built for B2B. These users want industry news, ideas, and probably; help with their business. That's where you come in. 
LinkedIn is around the stage now that Facebook was at in 2012, when ads weren't saturated with nearly every business competing for ad space (yet).
Whilst I'm aiming to give you actionable tips in this article, I'm prioritizing the importance of building your reputation on the platform before sinking thousands into a non-converting cold audience. If you get in there and start building a reputation for your brand on LinkedIn right now, you're in at a good stage to build organic (and paid) awareness.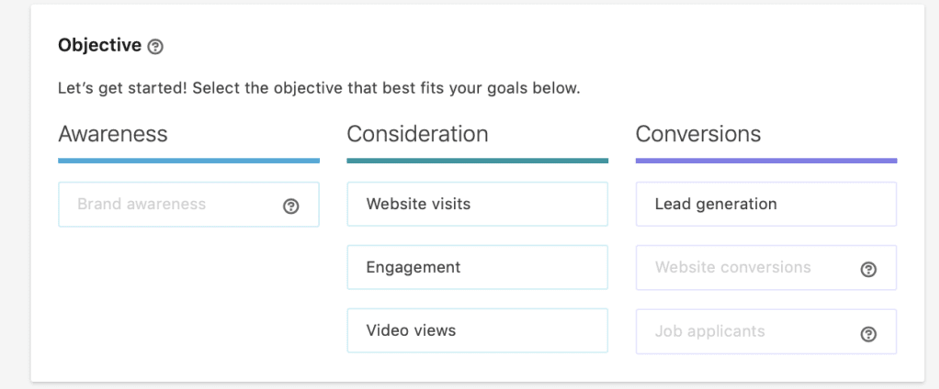 1. Build your reputation first!
Before you start sending out Sponsored InMails or Lead Ads on Linkedin, try building awareness of your brand, yourself and the problems you can solve. A demo for your software or a sales pitch to a cold audience isn't going to go down well compared to a warm audience, who recognise you already. 
That's where content comes in.
Organic reach is easy to get on LinkedIn right now because not many business professionals are posting good, consistent content. Try posting one video a week, using LinkedIn's native video feature, where you just talk about something you learned in your business niche. It shouldn't be sales-y, just purely educational. Share what you've learned in your experience, what problems you've overcome within your business, and give tips to become an authority in your field over time. 
Top video method: make it short, snappy, and attention-grabbing. Use subtitles, as most users don't turn sound on to view videos in their feed. As professionals scroll down their feed on their daily commute, videos have the best chance to get them to stop and give you their attention and engage with your post.
Try posting this content on your personal profile too—they're shown to have much higher engagement rates than company profiles. 
You may say "That's just not my style". Yes, it can be daunting to put yourself out there, especially regularly. But in the future, video content is only going to get more important in building a reputation for yourself in your field. 
Once you've put up a few organic videos and you're confident doing it, you can even boost your organic reach by running video ads to your audience. 
2. Use lead ads to seal the deal
After the success of Facebook's Lead Ads, Linkedin jumped on board with their own Lead Gen Forms to protect their position as king of B2B. Unlike traditional LinkedIn ads which direct leads to your website, Lead Gen Forms allow users to give you their details, download your content or follow any call-to-action.
These forms will actually auto-fill with the users Linkedin profile information when they click "Sign up", notably, their job title, function and company. This, coupled with the fact that users are more likely to have up-to-date career information on their LinkedIn profile than say, their Facebook profile, means that you can have higher confidence in the value of the leads you collect. Plus, leads are more likely to trust LinkedIn with their information than if you direct them to your website. Keeping it all within LinkedIn streamlines the process, plus LinkedIn is just the trusted household name in business networking. 
TIP: Write (or pay someone else to write) an e-book or pdf checklist that users can download, in exchange for their email address. It needs to be content that you would be willing to read yourself, and actionable (tells the reader what they should do, how and why). 
In your awareness stage where you're getting your brand out there, building a mailing list with the details you collect is essential for nurturing those leads outside of the LinkedIn platform too. 
3. Don't be vague 
In the interest-building phase, you used content to show prospects who you are and what you know, and hinted at what problem you'll solve for them. In the conversion phase, you need to show your user why you're the best choice and give them a clear method of how to actually GET your product. Don't use vague CTA's like "get started" and "more info", just have them enter their email in a lead-gen form, so you can reach out directly. The point is: be clear in how they can actually buy your product or service. 
We've talked about content in the awareness stage, but content is also critical when you go in for the lead form ad. 

Use the "Offer Headline" and "Offer Details" lines to tell prospects what's in it for them when they fill out the form, and tempt them with the results you've achieved with your product. Remember, potential leads are scrolling down their feed fast, you need to grab their attention with your copy here with less than 60 characters for the headline. Treat it like an email subject line in that sense. 
Remember to provide your company's privacy policy link in the privacy policy text button. 
4. Take advantage of custom questions and "hidden fields"
Add a "Custom Question" to your form. You can select from either single-line text input or multiple choice. Use these custom questions to do a bit of lead qualifying. Try asking leads what their main pain point is, or even how much revenue they're bringing in right now. 
Further reading: 3 B2B Marketing Strategies to Master in 2020